Challenge
Before deploying NetCrunch we did not have any software to monitor our network. We were only using open-source solutions, and found it difficult to get historical performance data. One of the main challenges we had before implementing NetCrunch was knowing the current status of the servers, and receiving data on server malfunction or failure. We had no way of  receiving information about the use of network services running on work stations.
Our network includes 14 Windows servers, 1 Linux server, 14 switches as well as firewalls, and is used by around 300 users.
Solution
Marhnos IT department staff consists of 6 people that support almost 300 users in several locations. We do not have time to manually monitor all of our network services and devices. NetCrunch monitoring software has helped us reduce time and costs of IT operations. Thanks to automatically generated reports we are aware of everything that is happening in our network and we can make quick, effective decisions. We also like using the Web Access option in NetCrunch via the web browser for easy and quick access to the general overview of our network without installing NetCrunch Remote Console.
NetCrunch sends us an email when one of our servers has a problem or if one of the services is not responding or not available. Due to this service we can react rapidly and fix the problem before it negatively impacts users. During the installation process, NetCrunch discovered automatically not only all local networks but also the remote network connected via VPN – making everything incredibly simple for us.
NetCrunch provides us with detailed information about hardware, software, services and processes running on each monitored node in our network together with daily, weekly and monthly reports. NetCrunch also generates and compiles statistics on CPU usage, memory, servers, hard disk, and so on. The program is easy to use and is incredibly adaptable. It is easy to tailor the software to our needs, allowing us to create forecasts and prepare network development plans.
About Marhnos
We are a strong interdisciplinary group of companies focused on development of real estate projects, industrial and infrastructure, known for being highly competitive and a strong commitment to social responsibility
The table below presents the organization structure of our company. It consists of: Board of Directors, Director General, Executive Committee and 4 business areas (Engineering & Construction, Real Estate, Environment and Infrastructure). Marhnos IT Department gives support to all of the business areas mentioned before.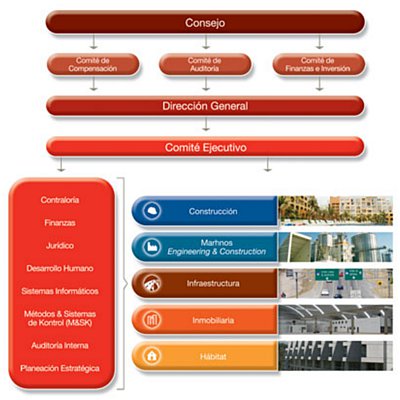 The group began operating in 1954 as general contractor, and currently we participate in the construction market as a specialize developer and manager of real estate as well as operator and licensee of infrastructural projects.